Let us help you find work
Fair Start Scotland can help you find work in Lanarkshire.
Our support is quick to access, matched to your needs, and comes at no cost to you.
We can help you to:
Overcome any challenges
Including access to mental health and debt advice
Build your skills and confidence
Using resources on our Employment Support Hub
Find a job that is right for you
With access to vacancies
and opportunities
If you're 18+ and can answer 'yes' to both statements, then we are here for you:
I'm unemployed and not in full-time education, or training (over 12 hours a week).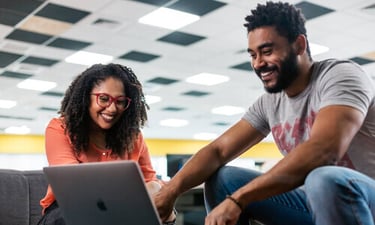 Work with us
If you are an employer, visit our dedicated partner portal to find out how we can help with your recruitment needs.
If you would like to work with us, join our Community Partnership Network by visiting https://www.maximusuk.co.uk/CPN
We've already helped thousands of people

like you
"Fair Start Scotland gave me the platform to find something which was right for me. I always wanted to work but just needed that extra push. I was supported with an application for a security role and was delighted to find out I was successful following the interview.

"